Meet Our Staff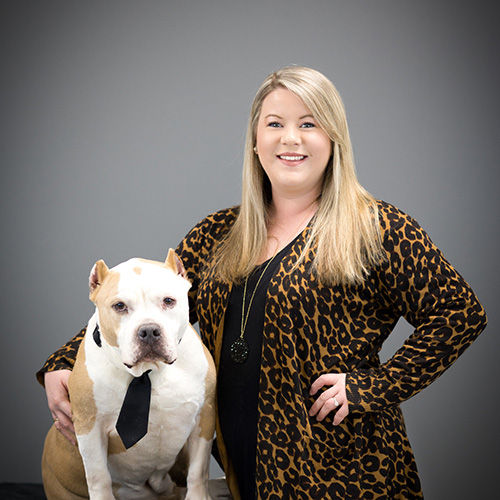 she/her
Meet Rachel! She is an avid cow enthusiast but spends most of her time loving on her sweet baby girl, her three dogs, Josey Bell, Chloe and Colt and her cat, Kyro. When she's not working, she enjoys spending time with family & friends, working on home décor projects, enjoying her husband's cooking and spending time outdoors. Her never ending love for animals led her to a career at the Greenville Humane Society and has allowed her to fulfill her dream of becoming a Chief Executive Officer.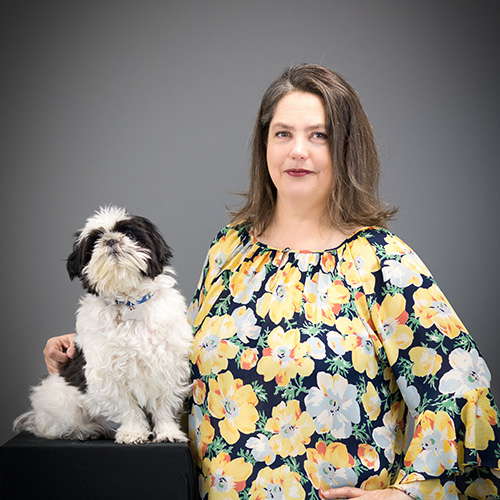 she/her
Meet Sharon! Even as a self-proclaimed cat person, she's still pictured with her beloved dog Oreo (how ironic). When she isn't crunching numbers, working with staff on HR issues or overseeing all kinds of fun office stuff as the Chief Administrative Officer, she enjoys spending time with her family and perusing the Kindle app for a new book. Sharon has dedicated over 25 amazing years to GHS. She will retire one day to fulfill her lifelong goal of being a crazy cat lady.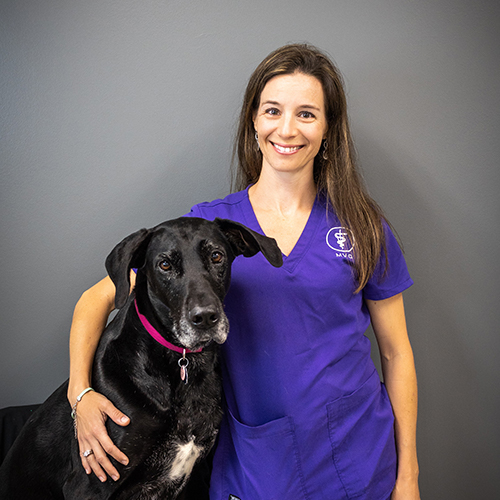 she/her
Meet Dr. Grisham! She attended Berry College and the University of Georgia College of Veterinary Medicine. She has worked at the Greenville Humane Society for over 10 years and has been the Medical Director since 2013. Her interests include performing surgery, baking, reading, walking her dogs, riding her horse and traveling. She lives with her husband of 14 years, two sons and three dogs in Powdersville.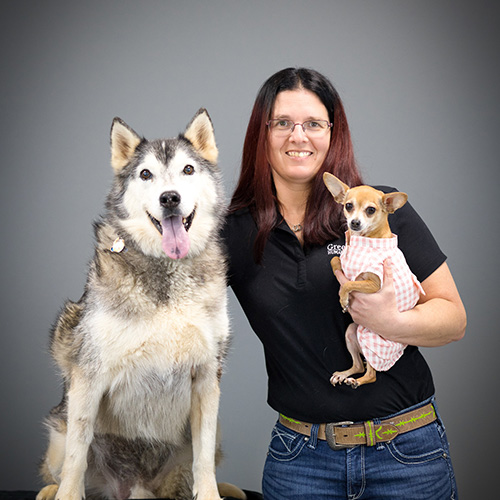 she/her
Meet Kelly! Originally from Canada, she lives on a farm with her husband and their many animals including dogs, horses, chickens and a cat. In her spare time, she enjoys trail riding, barrel racing and spending time with her husband and animals. She started her career at the Greenville Humane Society as a volunteer dog walker and is now the Medical Center Operations Manager where she oversees the daily operations of the Admissions Office and Vaccine Clinic.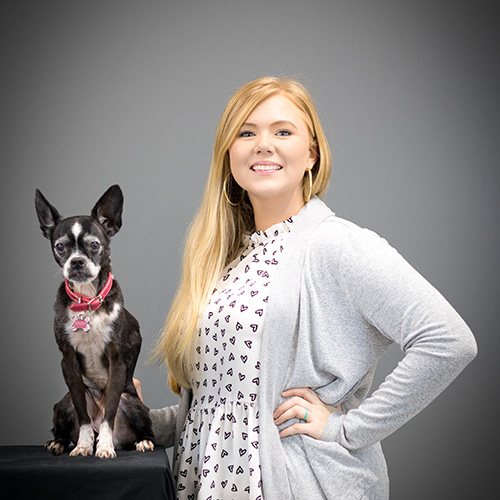 she/her
Meet Courtney! Courtney started at GHS as a volunteer in 2003 and has been involved with the organization since that time! She is a recent graduate of Clemson University and can be found on Saturdays cheering on her Tigers in Death Valley. When she isn't working, Courtney enjoys spending time with her husband, her three wonderful pups and their sweet kitty, Willow. Courtney has combined her gift of gab and passion for animals in her role as our Adoption Center Operations Manager where she oversees the daily operations of our Adoption and Kennel teams!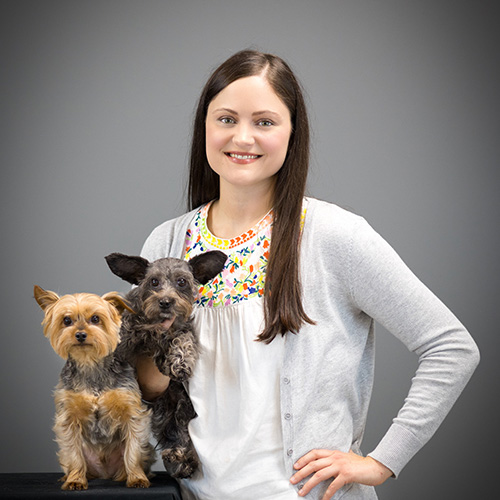 she/her
Meet Haley! She is well known for her love of cats (she currently has three of her own) so some may find it surprising she's also a mom to two precious pups, a yorkie named Duncan and a blind schnauzer mix named Georgie. When she isn't wrangling her miniature zoo at home or working hard in our Healing Place, Haley enjoys spending time with her fiance, exploring new places and visiting with her beloved old horse, Cruise. Her compassion for sick and injured animals led her to leading our Healing Place team as the Healing Place Operations Manager.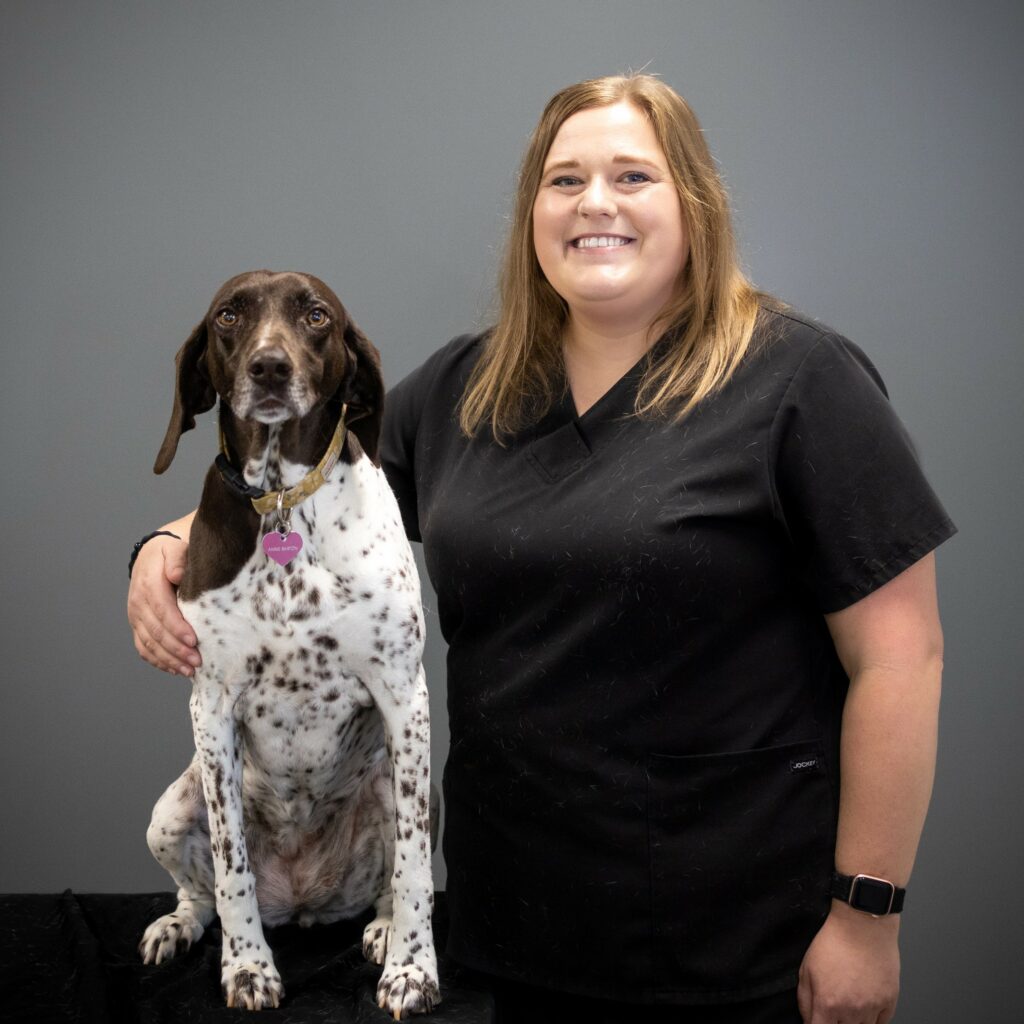 she/her
Meet Jennifer! A mom to two dogs (Annie pictured here), three cats and a human son, Jennifer enjoys spending her free time reading, looking forward to her next Disney trip and planning for Halloween with her husband. She loves reading, has never been to a beach she didn't like and has worked with animals for nearly 15 years. Jennifer loves following her passion every day to provide excellent medical care and prevent animal overpopulation as our Spay/Neuter Clinic Operations Manager.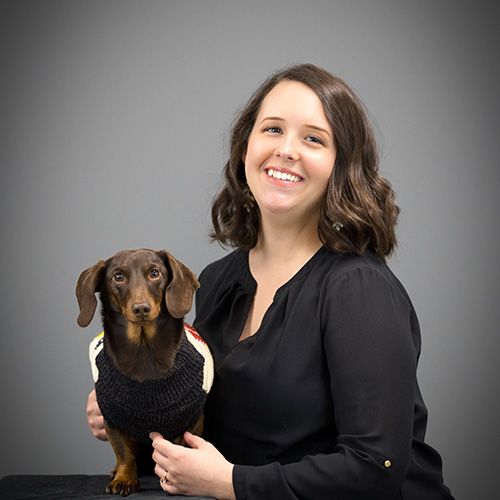 she/her
Meet Erin! A life-long animal lover, Erin currently shares her home with her two dachshunds, Winston and Huxley, her husband and their human baby. Erin loves working with the community to help homeless pets. Outside of the office, she enjoys spending time with her family, exploring new culinary creations in her kitchen and finding new adventures throughout the Upstate. Erin's passion for helping those in need has led her to her position as the Outreach Operations Manager.
Brent Hester, Adoptions Manager
Katie Wisser, Assistant Adoptions Manager
Cailin Hinton, Kennel Manager
Gia Nix, Assistant Kennel Manager
Dr. Liza Price, Shelter Veterinarian
Denise Lamb, Behavior & Enrichment Manager
Brittany Eiffert-Smith, Intake & Vaccine Clinic Manager
Mak Queen, Assistant Clinic Manager
Ashleigh Delport, Donor Relations Manager
Emily Zheng, Marketing Manager
Mishelle Gray, Volunteer Manager
Want to Join Our Team?
View opportunities and apply to be a part of our wonderful staff!
Job Opportunities