Find the pet that is right for you!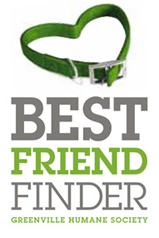 Our Best Friend Finder Program is a waitlist for those who are interested in certain types of animals or breeds that do not end up in shelters very often such as purebred animals, designer mixes such as Goldendoodles or hypo-allergenic animals. If you have requested to be contacted for something that does end up in a shelter relatively often such as a shorthaired cat or a mixed breed dog, we do not have the resources to individually contact interested adopters for these animals as they arrive in such high volumes. Instead, we encourage you to keep a close eye on our website as new animals are added every day and automatically removed when they are adopted. If you are looking for a certain breed of dog or cat, sign up for our BFF Wait List. Our Adoptions team will notify you once we receive an animal matching your criteria. You'll then have the opportunity to meet the animal and decide whether or not you would like to adopt him/her.
The adoption price of a BFF animal is typically $95 – $500 based on the particular animal. BFF animals have a higher adoption fee to help offset the cost of other animals that could stay in our care up to 6 months. BFF adoption fees allow us to pull more animals from high-kill shelters that would otherwise face euthanasia. 
To reserve a spot on our Wait List, please fill out a Best Friend Finder request form below (click on the image).
Our Adoption Counselors take great pride in finding the perfect match for you. Have questions or need help submitting the form? We can be reached by phone at (864) 263-5603 or by e-mail at greenvillehumane@greenvillehumane.com.