Get involved with our cause and spend your time volunteering at our facility.
Searching for an opportunity for your class, group, or company to give back to the homeless pets in your area? Consider donating a small portion of your time to the animals in our care. During this hands-on experience, your group will assist our adoption staff with daily duties behind the scenes and on our
adoption floors.
Requirements

:
Groups are scheduled Monday through Wednesday, 1:00 PM – 3:00 PM. No weekends available.
Group sizes must be between 5-10 members.
All group members must be over the age of 18.
No outside family or friends will be permitted. Only members of the organization are allowed to participate in the group volunteer experience
Group must arrive on time and appropriately dressed – comfortable, conservative clothing, closed-toe shoes, and appropriate weather gear.
Each group member should fill out our Consent Form. This form makes each group member of the experience aware of our policies and procedures before arriving. Please have each group member sign a consent form and email it to the Volunteer Coordinator in addition to the Group Volunteer Experience Form.
We ask that groups that are interested in Volunteer Experiences kindly donate $5 per person, or donate items off of our Wish list of equal or greater amount. Items donated off of the Wish list go to the animals as a whole, and monetary donations go to the Hope Fund which helps the animals in the Healing Place.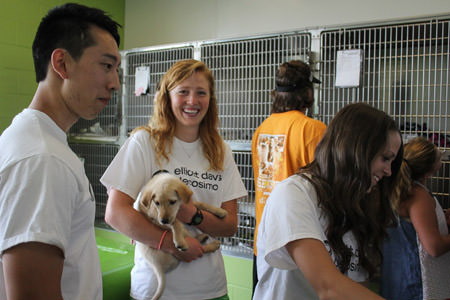 Some of our typical tasks for group volunteer experiences are:
Helping with Mail Campaigns: Stamping and Sealing Envelopes
Opening Syringes for Admissions and Clinic
Assisting with everyday tasks in the Volunteer Room:
Folding Laundry
Unfolding Newspaper
Making Foster Bags for the Healing Place
Walking Dogs in the Medical Center
Bathing Animals
Organizing Spay/Neuter Clinic Paperwork